Introducing new member of GreenPeople.org directory: OCReef.com
OCReef.com, Aquarium Supplies Store, introduces a new line of "Do It Yourself" DIY LED Aquarium Lights, to give fish hobbyists the most advanced products, without breaking the bank.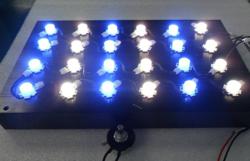 LED Aquarium Lighting is here to stay!
OCReef.com, the leading online retailer for aquarium supplies and
led aquarium lighting
, introduces high performance "Do It Yourself" DIY LED Aquarium Light systems for aquariums with LEDs by CREE. These light systems will provide a balanced spectrum for photosynthetic corals, invertebrates and for freshwater planted biotope aquariums.
The Director of Operations of OCReef Aquatics, David Francis, said the following about this new exciting product, "When my
pico reef
was being planned, form factor was the primary goal. There wasn't much to start with except an all glass 3 gallon fish tank. With the small footprint of this tank, it was unlikely many components existed for it. But, there were a few examples that we experimented with, that inspired this product. Customers will see significant color improvements in their corals and fish with these lights, and now have a size that fits aquariums from 3 to 100 gallons."
Light is a major component for the proper care and survival of a saltwater coral reef aquariums. OCReef.com now offers a wide selection of Cree DIY LED aquarium lights to fit every tank size and need.
About OCReef.com
For over 25 years OCReef.com Aquarium Supplies has been providing your home reef aquarium with the finest Cree LED aquarium lighting, and aquarium supplies, including: protein skimmers, heaters, filters, water pumps, nano fish tanks and more. OCReef.com is committed to consistently deliver superior online customer service that meets the needs of aquarium hobbyists, with unsurpassed professionalism, politeness and promptness.
Located in the heart of Orange County, OCReef is proud to sponsor responsible reef stewardship programs abroad. The OCReef.com shopping experience is extremely user friendly, fun and informative, making the whole process pleasurable. We hope you'll become part of the OCReef family. For more information about led aquarium lighting and aquarium products, visit
www.greenpeople.org/listing/Orange-County-Aquarium-60370.cfm